When it comes to managing your business, insuring that every aspect is covered is vital. That's where we come in. Skyward IT is dedicated to providing enterprise IT solutions that covers all avenues. Our goal is to remove the hassle and pain of technology so you can use your time and resources growing the business. Contact Us today!
---
and much more...
Expert storage solutions to keep your business running.
Helping you plan for worst case scenarios. We can get your business back up and running quickly.
We go above and beyond to protect against data loss.
---
Virtualization
With virtualization, we now have the ability to run multiple servers from a single server.
Virtualizing your servers can save you thousands of dollars a year by combining and consolidating your hardware. This saves on physical hardware costs, reduces the amount of electricity used, and even helps lower your cooling and a/c costs. With less hardware to support, there are less chances of equipment failure which equates to higher up time. Virtualizing also helps reduce restore times, which will help get you up and running quickly in the event of an outage.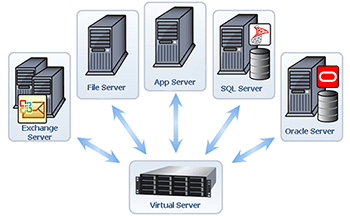 ---
Cloud Services
Full featured, enterprise grade servers that scale with your business. Cloud Servers are perfect for new or existing businesses with hardware approaching the end of useful life. No up-front hardware costs. No burden of high cooling/electricity costs. No need to dedicate valuable real estate space to hardware storage. And no need to hire/retain IT personnel to support hardware on-site
Our Cloud Servers are actively managed and maintained off-site, 24 hours a day, 365 days a year by specially trained, highly-experienced system and network engineering staff.
Features include:
Integrate any third-party software application into your hosted infrastructure.
File Sharing & Document Management
Central workspace for users to manage, share and store group documents, files, calendars, tasks, discussions, lists and events. Access to shared data (from any computer at any time) increases business productivity.
Secure VPN-based access using any Internet-connected PC in the world. Perfect for users in the field and/or those working from home.
Integrated platform designed to protect against hardware and software malfunction.

---
Managed IT
Our most comprehensive offering, Managed IT is a service contract based on guaranteed maintenance procedures performed on a weekly or biweekly basis. Skyward Technical Solutions combines 24/7/365 monitoring, with remote maintenance and support all in an affordable package. In fact, our new pricing scheme offers fixed flat rate support that will save you money and minimize network interruptions and downtime.
We've assembled a set of powerful tools to monitor your servers, desktops, printers, and firewall. The result is a best-of-breed preventative maintenance program that provides you with early-warning alerts, trends analysis, and a window into your system inventory that is always up to date.Recent technology has allowed us to resolve most issues remotely which means immediate results.
Our Managed IT program includes:
7x24x365 Network Monitoring
All Maintenance and Fixes
Unlimited Help Desk Support (9:00am – 5:00pm M-F)
Virus & Malware Removal
Patch Management of PCs and Servers
Preventative Care Visits
Unlimited Onsite Visits
Backup Management & Monitoring
Update/Maintain Network Documentation
Discounted Rate For Projects
Premium Managed IT includes:
Vendor Case Management – Internet, phone, copiers, wiring, etc.
Antivirus Software Subscription included
Spare PC Located At Client Site In Case Of Failure
Include Support For Up To 2 Home Machines
1 Hour Response Time To Problems
Next Day Server Recovery After Failure
WE'RE ON CALL 24/7 FOR OUR CUSTOMERS
We offer competitive rates without commitment to ensure customer satisfaction.
PRE-PAID HOURS
Pre-paid hours are a simple way to reduce rates by purchasing hours in advance. Prepaid hours are available in blocks of 50, 100 and 200 hours.

---
Technical Consulting
We provide project management for special projects such as:
Network Expansion
Relocation
New Software Deployment
Email Or Network Migration
Internet Connectivity Projects

---
Network Design and Implementation
We provide secure, expandable solutions based on your requirements:
Local Area Networks
Application Deployment
Wireless Network Integration
Remote Access Implementation
Exchange
Virtual Private Networks
Terminal Server and Remote Control

---